'
I was just checking out the Jaquie Lawson E-Cards and I love them, it would make a great gift for my mom for Christmas or her birthday which both are coming up.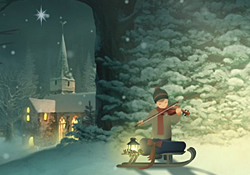 It's been awhile since I have checked them out they have really improved so much, though they have always been beautiful.
Today I made some Jewelry worked on some orders to fulfill and then organized my beads. I had to get all the colors together so when I need them I can find them more quickly, still have a bit more work to do on them, but should finish up later today.
Anyway I made about 6 or 7 crystal angel pendants yesterday. They make a great pendant for a simple silver chain. Very cute!
I will be posting them to my website soon, if interested in one now just comment me and I will get back to you.
I also restocked some crystals for my suncatchers and am ready for a few more new designs soon. I wish I could have had them ready for Christmas, but I have been so busy. Yesterday I baby-sat my grandson Rylan, that really kept me busy while trying to fulfill orders, he is four months old.
www.krystalkats.com
Here is a photo of Rylan I took in front of the Christmas Tree.
He sure is a good baby boy, I call him Bambino
Have a wonderful weekend!